Its been a while since I've shown any photos of the Vargr forces. So here are a few pictures of current items on the painting table. These are in various states of completion.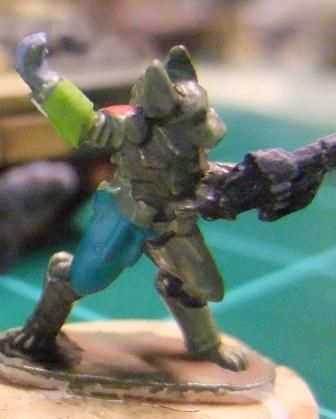 Protolene Khanate scout trooper from Critical Mass Games. This photo shows off the wacky alien camouflage pattern I'm using. The Vargr are known for being a 'colorful people'. Soooo...I'm shooting for a camouflage that looks both effective and alien. I'm reasonably happy the with palette for this pattern. The execute...well that's all on me.
What follows is a collections of the various Vargr infantry figures.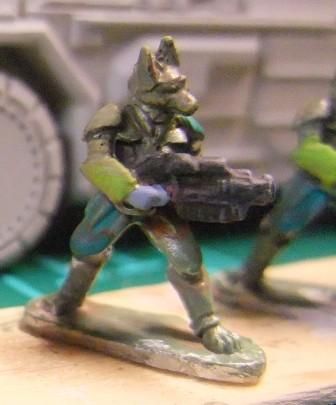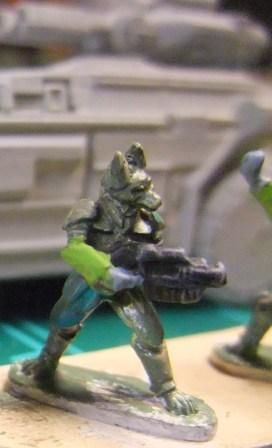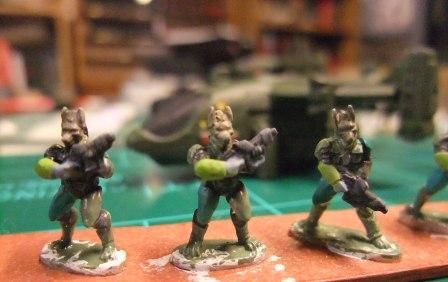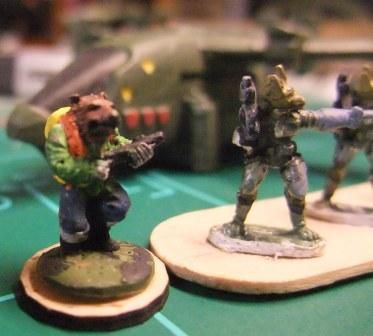 Here we have a RAFM Vargr plasma gunner next to a Critical Mass Protolene Khanate NCO. The pictures remind me that sometimes fewer highlights are better than too much. That NCO's gun is a little too grey.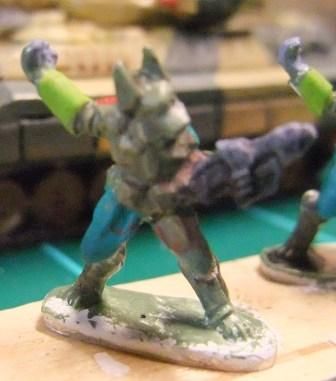 Not the best picture. At least you get the idea of the camouflage and can see some of the washes that have dirtied up the paint job.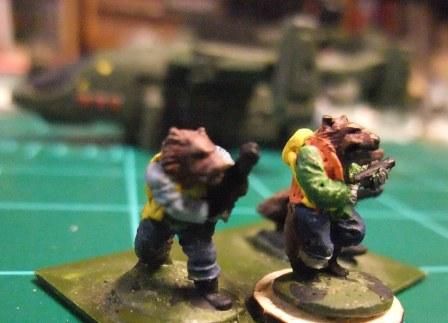 A trio of RAFM Vargr, wearing a motley collection of uniforms and flak jackets (not life preservers!).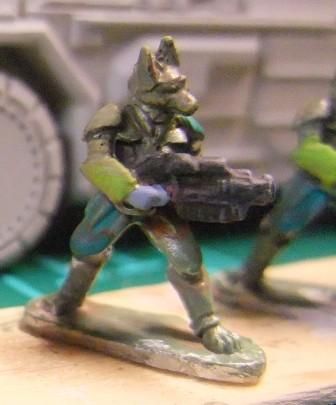 This guy might be the best of the bunch. The washes and highlights work pretty well.
One note - I managed to mix enamels with acrylics on this project. I don't recommend it. The enamels left a glossy finish and the acrylics don't play well over the enamel base coats. It works, but it was a hassle.
A couple of vehicle shots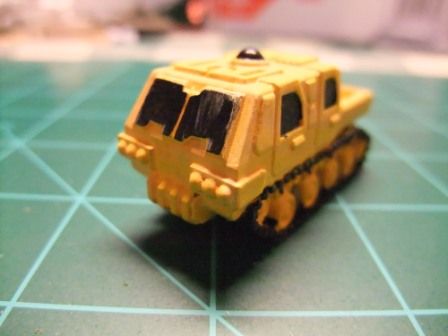 Khurusan's tracked pick up in a nice construction site yellow. I was shooting for something that reminds me of Caterpillar(tm) heavy equipment. This is a grey primer covered in Vallejo Golden Yellow, with craft paint "school bus yellow": highlights. Got to get to work on those tracks! Great casting if you need a transport for your arctic base or to move your colonists out of harms way.
CMG's Havoc anti-grav tank. Need to do the detail painting (vision blocks and weathering) then call it done. The base colors are alternating layers of Vallejo Dark Sand and Iraqi Sand. Dark Sand looks very light while Iraqi Sand reminds me of T-72's in the desert circa 1991. I went with the sand look mostly because I'm trying to give each Imperial 'faction' a unique identifying look.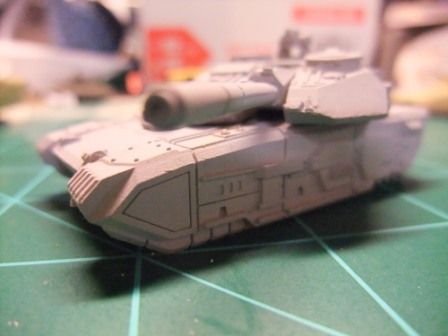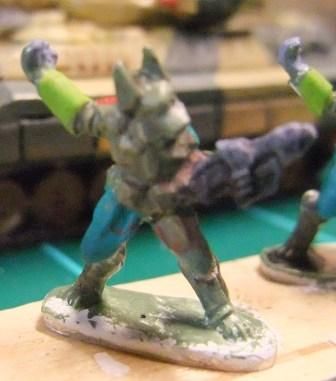 After a while these images all look the same. I've enlarged this so you can see the effects of the wash on the figure.
The fact that its the same pose, different figure does not help!